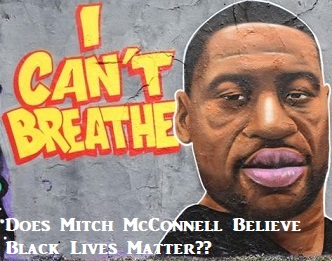 DOES MITCH MCCONNELL THINK BLACK LIVES MATTER?
June 7, 2020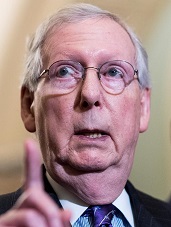 DOES MITCH MCCONNELL THINK BLACK LIVES MATTER?
WE MUST MAKE MITCH MCCONNELL BELIEVE BLACK LIVES MATTER. Enough to make the Senate vote on Congress's new bill. Enough to ENSURE A VETO OVERRIDE.
America has come together in protesting against police brutality towards black people. Many commentators have said, this seems different than the 60s, like something might actually get done.
THE HARDEST PART IS YET TO COME—TO GET FEDERAL LAWS, SWEEPING LAWS PASSED TO END THESE CONTINUED TRAGEDIES AGAINST PEOPLE OF COLOR. PROVE BLACK LIVES MATTER IN THE ENTIRE USA.
DEMOCRACY CANNOT FAIL IN THE USA. YOU CAN MAKE IT WORK.
CONVINCE MITCH MCCONNELL. MAKE HIM CONVINCE THE SENATE.
The Democratic Congress has plans to pass sweeping laws, to including changes to police accountability laws: revising immunity provisions, creating a database of police use-of-force incidents, ban on chokeholds. And more. But all these things must pass the Senate, and then the President.
Forget the President. He's in La-La Land.
HOW TO MAKE THE SENATE VOTE ON SWEEPING LAWS TO PREVENT POLICE BRUTALITY. BLACK LIVES MATTER.
Every member of the Senate, Democrats sure, but a must the Republicans, and most of all McConnell, must be associated with George Floyd's death. Posters need to be made to carry with McConnell's face right next to Floyd's with an appropriate caption—see my trial poster above. The same goes for your state's Republican Senators. Just substitute their photo for McConnell's above, and their name in the printing on Floyd's caption.
Mitch McConnell has proven he alone can squelch anything the Congress sends him. He just won't vote on it. We MUST convince him! And the Republican Senators. The pressure must be so intense they cannot stand it. Every minute of every day send thousands of emails, letters, texts, Tweets, Instagram and Facebook posts with McConnell's or your Republican Senator's photo next to Floyd's. OVERWHELM THEM WITH DEMOCRACY. SHOW MITCH MCCONNELL BLACK LIVES MATTER. Pictures are powerful. Please, those who know how to do this, PLEASE, start this NOW.
SEND MCCONNELL AND GOP SENATORS YOUR PHOTOS AND MESSAGE BELOW
If McConnell is pressured enough, he will make sure there is a vote. If you pressure the Republican Senators enough, then a vote will be positive.
But you must pressure them enough to get a two-thirds majority in each chamber, so when the President vetoes it, they can still pass it. Just the threat of an override of a veto has been enough for most presidents in the past to not veto. But we all know THIS President is totally unpredictable. He feels he can shoot someone in broad daylight and get away with it. So, he will likely NOT sign it and veto it, even with a threat of override. If there ever is a time to show the power of the people, this is it.
PLEASE VOTE IN NOVEMBER!!
THE OTHER GREAT THING ALL PROTESTERS CAN DO IS GET OUT AND VOTE THIS NOVEMBER. You were willing to risk being infected by Coronavirus to protest, but the most powerful change you can accomplish is by getting rid of Republican leaders, voting in those who care about people of color and stopping police brutality. VOTE !!
Please follow and like us: