Sequel to Dan's War and The Next Day : 
Welcome to the world of Genetically Modified Organisms: Food, Animals, and . . . HUMANS.
Click on below cover to go to Amazon and order book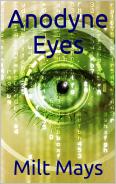 Would you modify your daughter's DNA to end war forever?
In the near future, a World Oil War leaves the Midwest in ruins, except for pristine GMO crops controlled by a monopoly, Ambrosia, and the Army, which savagely protects the crops from starving war survivors.
A genetic engineer, Rachel Anne Lane hates violence and war, and has protected her unusual 16-year-old daughter, Alexis, since birth. If Rachel modifies Alexis's special DNA, she can end all wars forever.
But Alexis rebels against her mother, traveling to the desolate Midwest to help survivors. Her healing gaze cures Jeff Trotter, a PTSD-afflicted soldier who's searching for his father, Dan Trotter. Alexis and Jeff fall in love, though he dislikes her reading his mind, fearing she will discover secrets.
Desperate for more oil, the Army will kill millions of Americans with lethal GMO foods Rachel mistakenly developed. They'll use Jabril El Fahd, the worst kind of brutal, mutated terrorist, who wants revenge against Rachel for his years of torture.
Helped by CIA and Army friends, and computer geek, Dan Trotter, Rachel chases Jabril across a post-apocalyptic U.S., desperate to save Alexis, Jeff, and the U.S. But Jabril is always one step ahead.
Anodyne Eyes is a sequel to Dan's War and  The Next Day, with many of the same characters, though Jabril has a new twist!
Click HERE to get a free ebook,