Home >>

They don't get my Nirvana, man
They don't get my Nirvana, man
September 25, 2011
They just don't get my nirvana, man: Green pastel prime
numbers and those I love, prairie views as far as tomorrow, mountain streams
clearer than air, bike paths free of glass. Do I see prime numbers in my head
as green floaters when I think of those I love? No, but I get it,
and I wish I could see primes and those I love in color. That would be cool.
The views from the bike path at Horsetooth Reservoir unfolding all the way to
Pike's Peak—I get that. Oh yeah! Fly fishing for cutthroats of orange jaw and
dark green back (fish the size I would use for bait in Pensacola), surrounded
by quaking aspen changing to gold in autumn,while being studied by a bighorn sheep
or a deer splashing downstream—I get that. Anytime!
They poke fun at the geek, or accelerate with their diesel
"duellies," trying to run me and my bike off the road and clouding the view
with black smoke, or crank their non-muffled Harley cruising by the river
throwing a beer bottle and laughing when it shatters on the bike path and the
fisherman (not to mention flipping the finger when you yell at them).
Or they put up signs like this.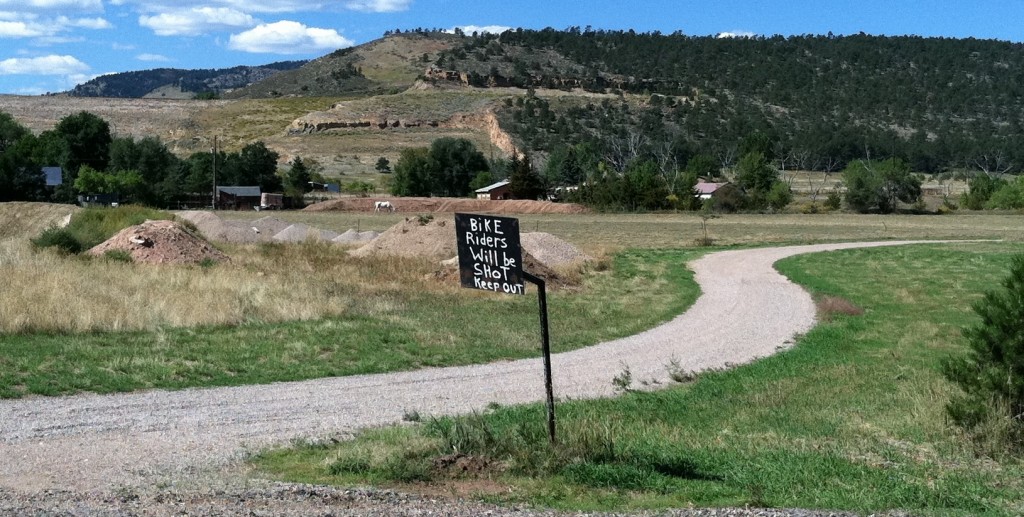 When I took the picture I wondered if crosshairs were
centered on my I-phone. One week after this post the sign was taken down!!
Then, I went back to cruising on my road bike, the warm sun
on my back, marveling at the beautiful humans I saw: a four-year-old boy with trainers
wheels, smiling and huffing and pushing to make it up the hill, his parents
close behind—new fun and love; a fat girl streaming in sweat, jogging and
working it—not giving up; septuagenarians holding hands and walking, smiling,
talking, and waiving hello as I pass—a generation we'll miss.
Or, a few weeks back I saw this.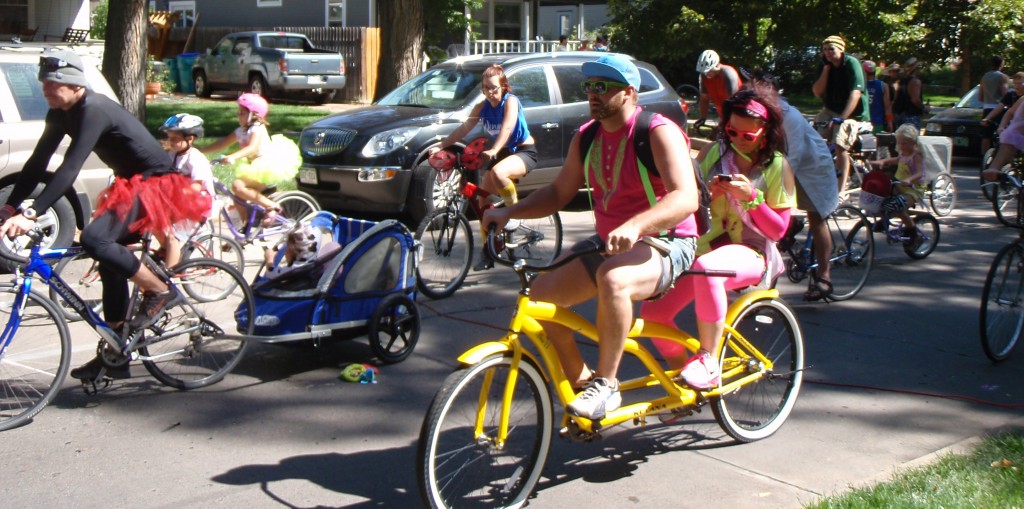 I went back to cruising on the Cathy Fromme Prairie trail; my feet and legs pumped and moved—feeling life.
Doesn't take much, really—a bit of compassion, restraint, respect for someone else. I love Harley riders, and truck drivers–salt of the earth and most are great people and friends.  A few spoil it for many.
There are now seven billion of us. We have to learn to live with each other. Let's get rid of war.
Respect my nirvana, man. And theirs.
Apparently this worked. The owner took down the sign!!
mm
Dan's War is an award winning techno-thriller with heart, about the end of world oil . . . in two weeks. Cajuns and one lone computer geek try to save us–not giving up and feeling life every day.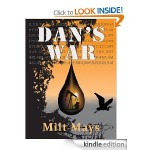 All E-book formats on Sale.
Amazon Kindle:http://tiny.cc/5sxjm
Barnes and Nobles Nook:http://tiny.cc/dsiho
Smashwords for all other e-book formats:http://tiny.cc/o0nh3
REVIEWS:  http://tiny.cc/mt6b7
Please follow and like us: