Adios Amigo
April 25, 2012
Adios amigo
Peter Gallagher died on 4/23.
He was my stepfather, a friend really. What can you say about a friend who can no longer listen with wise ears, can no longer edit my writing with expert care, can no longer comfort and love my mother, his dedication most dear?
I saw their last dance together. I'm so glad I did.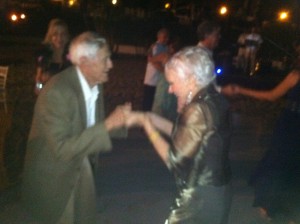 He wanted no fuss. Just a quiet goodbye. Let those who survive remember and carry on in goodness. He trusted that would happen. He spread his goodness a long time:
88 years.
There were those saved by his service translating Chinese for the OSS in WWII. Who knows exactly how many, or what he did. He would never say. Secrets until the end. The only thing I knew was he hated war. Imagine that.
Many legal clients were helped by him, both in Albuquerque before he retired some thirty years ago, and in Manzanillo, Mexico, where he lived and offered his services, usually for free.
His palpable legacy is a beautiful house in Manz, wonderful children, whom I have come to know and respect, and the lovely Luce, my mom, a woman without equal. That should be enough for any man.
There is the legacy, though, you can't see, or touch, or hear. It is there, in the minds and hearts of those he knew. That legacy is more than the stars.
Thanks, Peter.
Goodbye, my friend.
Milt
Please follow and like us: