I was sad that day
August 27, 2012
It was about four weeks ago. A beautiful day. I camped with my son at a high mountain lake, after a hike the day before that tested my knees and stamina. The morning brought glittering spider webs, round and symmetric, new as the first rays of sun that illuminated their wonder. Why did a spider make them so beautiful, their rungs so perfectly even, the concentric circles almost exact enough to have required a compass to trace them? An osprey glided over the lake, its chirping call common to most Americans, except in this mountain haven. An osprey at 9500 feet. Cool!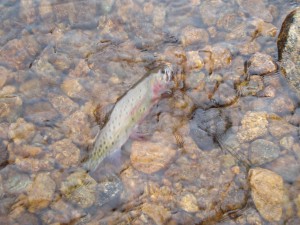 Golden fish with blood red lower jaws cruised the shallows, searching for breakfast—greenback cutthroat trout, nervous at any moving shadow, instinctively aware of osprey, or other predators. That would be me, a fly fisherman. I caught a few, hungry gulpers that pounced on the fly the instant it hit the water. Quick release and back they cruised, wiser to subsequent flies, but still strong, vibrant in color, an integral part of the beauty. High mountain peaks surrounded me, a few white valleys only small remnants of glaciers of old, before the world warmed. Glacier melt cascaded in rivulets down the mountain cliffs, filling the lake, gaining in strength down the valley, and finally quenching our thirst in the Front Range. 85% of the water we get comes from the mountain runoff.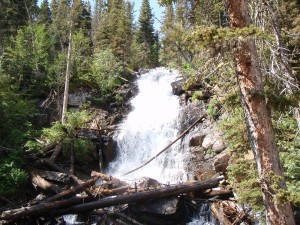 At that thought, I was sad. The Cache la Poudre River was clean until the High Park Fire seared and glazed the earth so that water no longer seeped in, but flooded into the Cache la Poudre River, making it as black as soot. What caused the fires? Maybe it was too hot with too little rain for too long. Ya think?
Up here, miles from the High Park Fire, half the pine trees are rust-colored, dead to a beetle that is another harbinger of warming; not cold enough in winter now to kill them, so they kill the forest.
I was sad because my son who loves this wilderness as much as any, may never have his own children see these things. If the globe keeps warming, the snow will melt sooner, more fires will engulf the beetle-killed forests and the beauty, the world I've known, will be gone. Another fire may make all the biggest ones in the past piddling things. We could lose the fish, the moose and the coyotes.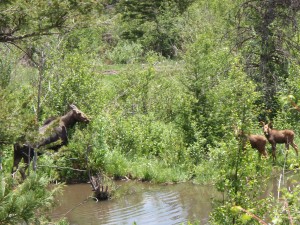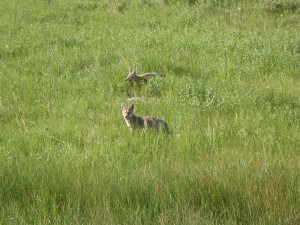 All because humans, that would be us, must have energy to build, to drive, to heat, to seemingly survive in this twenty-first century. Yet, my son and I camped without electricity, without heat or AC, and still lived, though much more simply for a few days.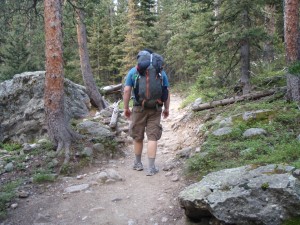 It was beautiful but I could not wait to drive my car as quickly as possible down the valley next to that glacier-fed river to get back to my comfortable bed, to be cooled by AC and enthralled by a movie on TV. That weekend I cut my lawn with a power mower. This winter I will stay comfortable, heating my home enough to roam the rooms in shirt sleeves.
Can we actually live well for more than a few days without all these things we deem necessary?
For my sons, daughters, and grandson's sake I hope so. All those working on solar power, wind power, cars that run on natural gas or anything that leaves little carbon dioxide behind, keep trying. It's worth it. I don't really want a terrorist to make it happen like in Dan's War. But if we keep it up, it could.
Milt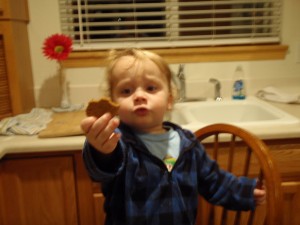 Please follow and like us: