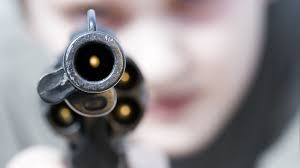 Gun Violence and Video Games
May 20, 2018
Gun violence only needs two things:
1) a human being to pull the trigger   
2) a loaded gun.
A recent editorial by Steve Olson in the Loveland Reporter Herald, speaks to Video Game Violence as one of the prime causes of the number of student mass murders in school.
http://www.reporterherald.com/opinion/guest-columns/ci_31889271/guest-opinion-violent-video-games-are-teaching-kids
Mr. Olson believes that he has the duty to bring this to our attention because he is a member of the city council and wants us to "stand united to take on the billion-dollar video game industry that capitalizes on the marketing of killing." A laudable goal to help prevent school shootings in the distant future, IF his studies are not statistics of minor studies to just prove his point, AND to take the attention away from the prime cause of GUN violence.
numerous studies refuting that violent video games cause violence in children and adults
Actually, Mr. Olson, there are numerous studies refuting that violent video games cause violence in children and adults. Just one article of many:
https://gizmodo.com/science-finds-once-again-that-violent-video-games-dont-1823811169  More a Google click away. I could review those, but I want to simplify.
Just like Mr. Olson, I also spent a career in the military. But I graduated from the Naval Academy, then went on to be a physician patching up wounded lives and families from war. I have spent over forty years trying to figure out WHY VIOLENCE, WHY WAR. Human beings are complicated, and so is violence.
So let's simplify things. It's not lots of studies with controlled populations. Simple.
Gun violence only needs two things:
1) a human being to pull the trigger
2) a loaded gun.
It would be great if we could somehow take away human beings' tendency to be violent, take away all violent video games, violent movies, poverty that spurs robbery and murder for money, drugs that cause poverty and take away inhibitions to killing, mental illness that is improperly treated and leads to crazies who kill, war that trains humans to be killers, child abuse that leads to more child abuse and murder, etc. etc. etc. Making laws to improve all these things are not only laudable, but goals we as a society must keep striving to do, as we have been striving for centuries.
But all those things have not worked for centuries and may never completely remove the violence that is a human stain. I have even written books about how to remove violence from humans. But they are fiction. This is real. Real people. Real death. A child gone forever. No chance of ever making that great discovery that might end cancer. Dead and gone.
What if we removed guns?
Sure you can kill people other ways. But guns, especially automatic or semiautomatic guns kill so easily, so efficiently. The Colt revolver was known as THE GREAT EQUALIZER in the Wild West. Anyone can kill with a handgun. Quick, easy. Just aim and pull the trigger. Even if you are smaller, weaker, not good enough at oratory arguments, tired of rules that take away your freedoms, people who poke fun at you, maybe you're even a kid. A gun does the trick. Right now. Right quick.
Can we make laws to prevent violent video games? Sure, but even if we do, it is only ONE of the multitudes of causes of human violence. And we don't have centuries.
So the crux is THE GUN.
Gun violence only needs two things:
1) a human being to pull the trigger–i.e. you have to have a trigger.
2) a loaded gun.
Can we make laws to prevent guns from getting into kids' or other maniacs' hands? Yes, and those laws will impact gun violence in a year or even less. Look at Australia. They made gun laws to get the guns out of the community, used buy backs of automatic weapons, and not one mass murder for the next year, or 22 years afterwards http://fortune.com/2018/02/20/australia-gun-control-success/ . Look at every other advanced country in the world and the USA is backwards as far as gun control and gun violence. https://www.nytimes.com/2016/06/14/upshot/compare-these-gun-death-rates-the-us-is-in-a-different-world.html There, gun laws have prevented virtually ANY guns from getting into the general public. Virtually NO mass gun violence. Yes, the crooks still get guns, but illegally and made so difficult that it limits the number of guns available. In the U.S. it's easier to get a gun than a driver's license. Why do you think we have over 600 million guns in this country?
This video explains very well all about the gun problem in the USA.
I hope that we continue to make inroads into violence and human behavior. But first we must eliminate the one item that allows violence to inflict death with a simple point and shoot.
Please, Mr. Olson, and the rest of the city council, state legislators, national congressmen and senators, make gun laws now to protect not only our children, but our nation. Otherwise we will continue to deteriorate into gun packing Wild West killers who can equalize our weaknesses and eliminate anyone, or many whom we don't like by simply pulling the trigger of a gun.
Try tax rebates to hand in your automatic and semi-automatic rifles and pistols. Or other laws. But do something. And do it now. As Mr. Olson had pointed out, and I have in the past, gun violence is the new normal.
Gun violence only needs two things:
1) a human being to pull the trigger
2) a loaded gun.
Only gun laws can quickly change gun violence from the new normal and Make America Safe Again.
Please follow and like us: