Vietnam, Lamar Donuts and Motorcycles
May 30, 2017
Memorial Day 2017. 
The wall is back this year. I plan on going tomorrow and reading some names this time. No donuts. Don't want to fill up before the barbecue. I'll have a few things to say to my kids tomorrow about veterans.  We'll see how it goes. Tune in tomorrow night for an update.
Yep, I went. No donuts, and I read a few of the names, actually touched the wall, getting a feeling in my hand and seeing the reflection of me on the other side. It was a time when I was enjoying the Beach Boys, The Beatles, The Rolling Stones, Grand Funk Railroad, and making sure I went to college so I wouldn't get drafted. I probably made a poor choice of colleges, if I wanted to avoid Vietnam. Lucky for me I graduated from the Naval Academy after Nam was over.
I took pictures I haven't posted yet of the wall, of the times when someone I knew might have gone. Haven't been able to look at those pictures yet. . . . Someday.
The below is from a few years ago.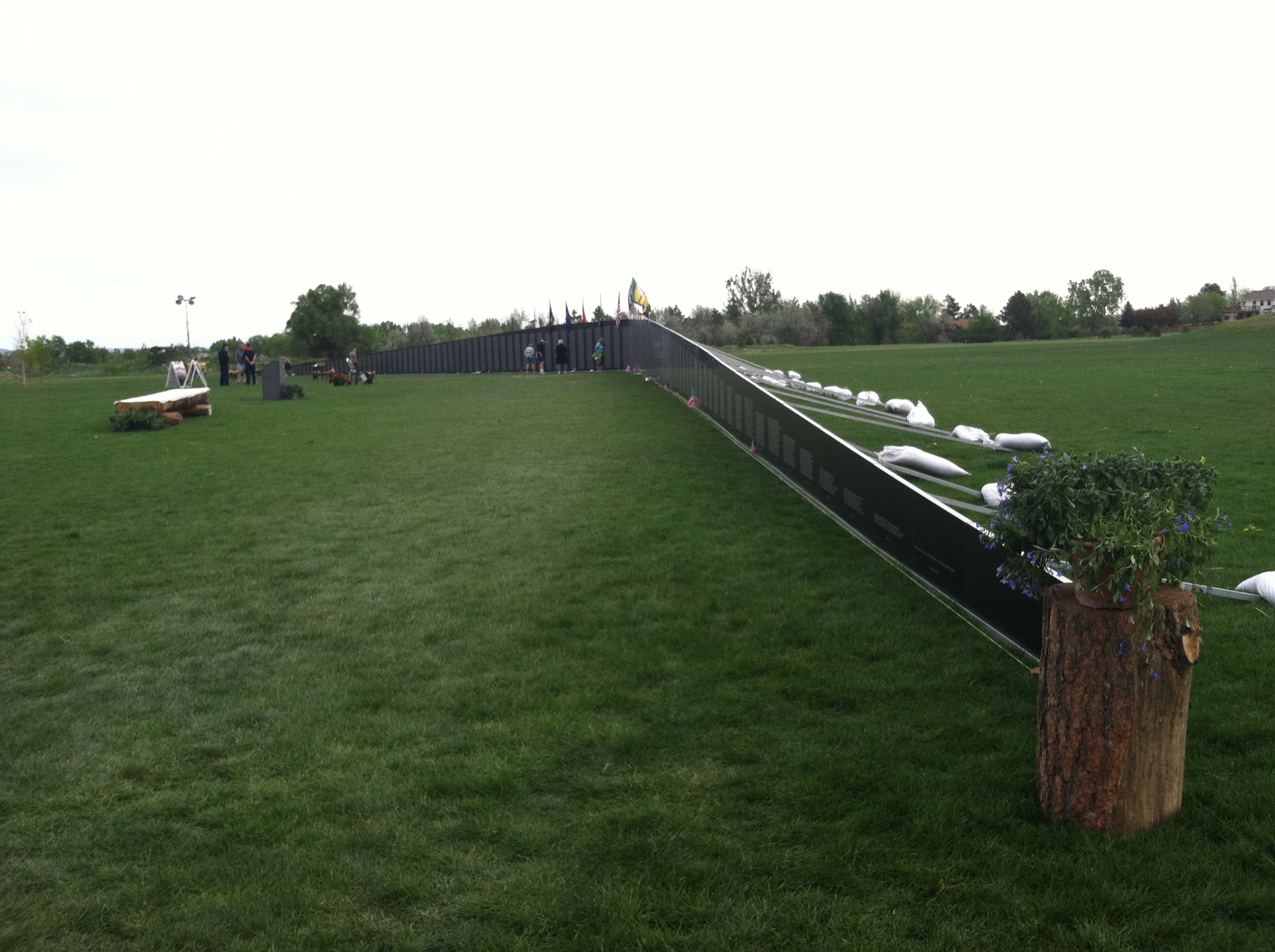 I think it had to do with fear. Not run-into-the-bathroom, kiss-your-ass-goodbye fear. More like fear I might see someone's name I knew. It could happen. So I had to have a Lamar's donut to kinda ease the worry. Maybe I ate more than one. The French crullers were excellent. Apple fritters: to die for. Probably will. But not today. I got there and actually read a few names.
(You Harley fans, yes there is something about motorcycles. Keep reading.)
I played ball and ran track with guys who graduated from Arapahoe High in '70, '71, and there was the off chance someone I actually graduated with in '72 could be on that wall. What would I do if I saw a name I knew?
No answer to that one because I didn't read more than three or four names. I'll say it was because they were all glommed together and it was difficult. I'll say it was because . . . Yeah. As they taught us at Annapolis, "No excuse, sir!"
I did get a picture or two of the wall.
Each column of names is a certain height to fit the upslope or downslope of the design. Each column is a length of time, usually several months to fill up the column with names of the killed. However, the middle has the tallest column of names. There were a lot of names. How many? 58,261 as of today. Next year they may come up with a few more from remains.
Yet, the thing that impressed me most was the right side of the hump, the year 1967.
The number of names was many more than the left side, 1968-1975, and it only took 2 weeks of time, not months as on the left side, to fill each column, with fewer spaces between names and each line held more. Lots and lots of names. Too many. Way too many.
I had to leave, have another Lamar donut. The chocolate glazed cake was scrumptious.
I'll be as big as a house if I keep thinking about this. We got way too many donuts.
The real problem where I sit, as a doctor who sees the veterans that come back, not the ones who were killed, is that there are way more mentally killed by that war than are on that wall. And the last ten years is going to be worse. A lot worse. PTSD and TBI are already becoming our daily bread at the Veterans Hospital and clinics.
I wrote a poem about it below. It is a fictitious veteran, but based on fact. Too many facts. Way too many.
The Vet
By Milt Mays
He lives by himself, even in crowds, sometimes can't go out at all.
Sound of a car, electric razor, makes his mind flinch,
His thoughts stall.
He's made great progress everyone says, but he knows it's still there, alive.
The monster in his closet plays, and can open the door
Anytime.
Was there a time before war when happiness lived,
When he looked at his hands and felt pride?
Maybe an inkling is there of a man whose hands and his heart could
Mold wood.
Hands of a cabinetmaker, heart of an artist, with proof on the kitchen wall,
And the music box that plays for her.
But the war in his mind scared her away
With his hands.
Must wear gloves even in summer, nineteen pair, nineteen, nineteen…
NINETEEN!
Cover the blood, don't look, even washing.
Anyhow,
The stain can't be cleaned.
He rides Harleys not cars, wide open, not closed.
The speed and the danger, the next curve, the down shift,
Occupy time.
Like gloves on the mind, meds cover the madness,
For years made him "functional,"
Stupid, and dull.
So, today he stops them to feel life again,
The Harley, the wind and the road,
Then nothing,
At last.
I need another donut. Maybe the Bavarian cream-filled Lamar chocolate special. No maybes about it. It was delicious, but way too big and way too rich. Now I'm full and feel guilty and sad. Perhaps that's appropriate for Memorial Day.
This Memorial Day enjoy a barbecue, a beer, and feel a little guilty and sad. Guilty because we let ourselves get into wars day after day, year after year. Sad for the 1% of Americans that will eat MRE's today and risk death and more to protect us 99%.
Maybe I'll go back and read the names. No donuts this time. Just my thoughts, the wind, and The Wall.
Milt
Please follow and like us: