What is War?
August 8, 2017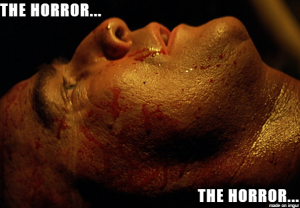 Okay, I reread a comment on my Vietnam Wall post and feel a need to explain.
Getting drafted and going to Vietnam was certainly a possibility at that time, and though some men wanted to avoid it, I never really thought about it, since I had been working to get into a service academy for two years, thanks to my dad. Now, looking at The Wall, touching it, reading the names, and having seen movies and read countless books and articles about the horrors of Vietnam, and having treated so many PTSD and post concussive victims of that war and Iraq and Vietnam, I am thankful I was able to serve them in my best way, as a physician. Don't get me wrong about Annapolis. If the war would have continued, I would have likely never gone to medical school, possibly ended up as a name on that wall, and done it with trepidation, but without looking back.
My thankfulness at not going to Vietnam, and able to raise a family and become a doctor is always tempered, though, with a yearning to have been there and experienced some of the heaven of war. But then there would have been the horror.
As a physician who spent my career treating either active duty or veterans, war is indeed hell, tempered with heaven. It is hell on earth with hell afterwards for many. It is heaven because many young men and women find a place where  respect, harmony, cooperation, and friendship all coalesce into a unit with a purpose you can sink your teeth into–a mission against an enemy that not only threatens values and a way of life you value and want to continue for your family, but uses primitive and horrific means to gain any advantage. The problem with that heaven is that it is temporary, and can be tainted with an abrupt descent to hell, and you have no control when that will happen. It doesn't matter if you did everything the Bible espouses to be a good person. It doesn't matter if you say your prayers regularly. It doesn't matter if you saved ten fellow soldiers from annihilation by killing twenty of the enemy. It doesn't matter if you saved thirty wounded soldiers with a surgery only you could have performed in a battle hospital. You must always live with what happened, as Colonel Walter E. Kurtz said in Apocalypse Now, "The horror. The horror."
It bears watching again. And again. And again. If only to someday convince someone who has the power to end a war, or prevent it from starting.
Please follow and like us: