Who Would You Be?
September 27, 2012
I guess we all, at one time or other, maybe every minute, want to be someone else. You don't like your body, your mind, your job, your very being. Maybe you could be as svelte and smooth-skinned as J Lo,

as rich as Buffet (Jimmy or Warren-who cares? Well, I like Jimmy),

as witty as Jimmy Kimmel (especially with kids)

have a job that you love, and you were always happy. Or maybe you just want a pet bullfrog that tap dances on ice. Oh yeah, in the middle of winter at Vail. There are ways, you know. You just have to be persistent. So I'm told.

I always wanted to write stories that people loved. I wanted them to get away from this difficult, sometimes depressing world, and have fun, while at the same time learning something new. Then I had an eighth-grade English teacher who told me I could not write, and would never grasp the English language, or something to that effect. So what do I do? There was a favorite class at Annapolis called Underwater Basket Weaving. No, I didn't take that, though it sounded tempting. I took Creative Writing. Yeah, you can guess how many guys were in that class. In a trade school for boat drivers—not many. Who wants to spend time writing a journal when you have to study for EEE exam? That's when the stories started, though. And they are still going.
You can become a different person, change your brain power, your body, your job, even save the world—in fiction. There's a lot of serious shit that goes down every day, every place, so why not escape. At least for a few hours. It's not like you're going to end global warming or start world war three or something. Then again . . .
Dan's War is an award-winning techno-thriller with literary heart, about the end of world oil . . . in two weeks. Cajuns and one lone computer geek try to save us against an ecofanatic and his army. There's love between a geek and a hottie Marine, a father trying to save a son, nanobacteria eating oil, and weird characters that will take you on an adventure to far away lands, and keep you turning pages wanting more.
REVIEWS:  http://tiny.cc/mt6b7
$1 of each book goes to Veterans
Barnes and Noble:http://tiny.cc/htmrb
Smashwords for all other e-book formats:http://tiny.cc/o0nh3
New Short Story only a buck!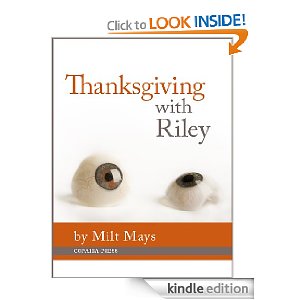 All proceeds go to US Veterans More at my Facebook Author Page:http://tiny.cc/sumdo
Contact me at www.miltmays@gmail.com
Please follow and like us: